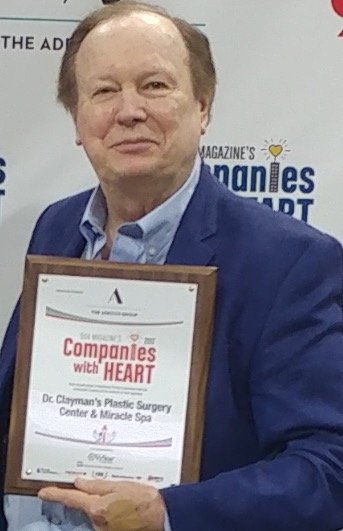 When Dr. Loren Clayman opened his practice, he established a mission to give his patients the most valuable services with personalized care, increased self-confidence, and utmost safety. Years later, he has kept that promise, and works diligently to perform both surgical and non-surgical cosmetic enhancements for your individual needs.
Dr. Clayman's years of experience have allowed him to customize results for every patient. He graduated from Tufts Medical School, trained at Harvard University, underwent surgical training at St. Elizabeth's Medical Center, and interned at the University of Pennsylvania. Additionally, Dr. Clayman completed his otolaryngology residency at Jefferson Medical Center, along with a second residency in plastic surgery at the University of Florida in Jacksonville.
With the utmost skill, competency, and attention to detail, Dr. Clayman is able to create extraordinary surgical results that complement your unique characteristics. During individualized consultations, he listens carefully and seeks to fully understand your cosmetic goals so that you are satisfied with the entire treatment process. It's this quality patient care that has led him to earn the "Best in Jax" title for Best Plastic Surgeon for 22 years in a row and Bold City's Best Plastic Surgery Center Practice.
Dr. Clayman's desire to provide the best possible care shows in his interest in continuing medical education. By staying up-to-date on the latest practices and techniques, he can further modify the procedures he performs to tailor your surgery and exceed your expectations.
Dr. Clayman is past president of the Jacksonville Society of Plastic Surgery, and is currently an active member of the American Society of Plastic Surgeons and American Society for Aesthetic Plastic Surgery, a society only a select group of Plastic Surgeons in the world belong to and is considered the Mark of Distinction in Cosmetic Surgery®.
Dr. Clayman spent time serving in the U.S. Air Force during the Vietnam War, performing extensive facial reconstruction procedures on some of the first returning prisoners of war. Since then, he has devoted his practice to breast enhancement, facelifts, liposculpture, tummy tucks, rhinoplasty, Botox, and facial fillers for the Southeastern Region of the country.
Whether you are a new or existing patient, Dr. Clayman will make it his priority to perform procedures that will improve your overall self-confidence. During your personal consultation, he will address your cosmetic concerns and recommend options for enhancement.
Dr. Clayman designs comprehensive treatment plans that start with a thorough examination of your face or body, which enables him to choose a technique that will create the best enhancement result. Rather than alter your appearance completely, he will work with your current contours to achieve an outcome that looks inherently natural and beautiful.