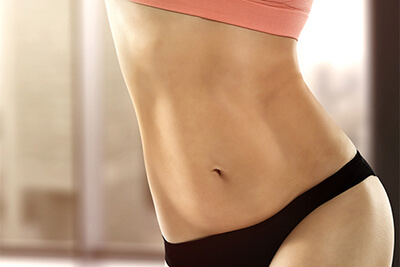 Although you may eat a healthy diet and exercise regularly, excess skin and fat can line the abdominal region and interfere with that flat midsection you're working hard to achieve. Factors like hormones, genetics, significant weight loss and pregnancy can leave your abdomen with unwanted lumps and bumps that refuse to budge. In cases like these, a tummy tuck procedure — also called an abdominoplasty — can help you accomplish many of the aesthetic benefits that you have not been able to achieve without surgery.
At Dr. Clayman's Plastic Surgery Center and Miracle Spa, you can receive an abdominoplasty that reduces the skin and fat surrounding your stomach and abdominal muscles. Rather than feel self-conscious about your body contour and be frustrated with the ineffectiveness of your exercise routine, improving your abdomen with plastic surgery can restore your youthful appearance, complement your lifestyle and improve your confidence.
Your Candidacy for Tummy Tuck Surgery
A tummy tuck may be the best route if you have been unable to eliminate excess skin and fat from diet and exercise alone. Loose or stretched skin in particular can mean that an abdominoplasty is your most effective option for achieving a flat stomach; skin does not respond to fitness efforts like body fat does. You may have recently lost a significant amount of weight, experienced skin damage from natural aging, or gone through one or more pregnancies that have left your abdominal region with stretched skin and weakened muscles.
Dr. Clayman may advise against a tummy tuck if you still have a significant amount of weight to lose or if you plan on becoming pregnant again; factors like these can cause you to develop fat deposits or loose abdominal skin again, which would require further surgery in the future. It is best to wait until you are ready to maintain the results you achieve before undergoing a procedure like a tummy tuck.
If a tummy tuck is the right route to help you regain a toned stomach with firmer skin, Dr. Clayman will work with you to create a custom treatment plan. Each abdominoplasty performed at Dr. Clayman's Plastic Surgery Center and Miracle Spa is slightly different — we work closely with each client to evaluate the causes of their concerns and create a surgery plan that addresses them directly and effectively.
Your Tummy Tuck Consultation
Ensuring that you receive the most individualized care starts with you coming in for a one-on-one consultation with Dr. Clayman, who will examine your body and skin, discuss your goals and determine whether you are healthy enough to receive surgery safely. You will talk about factors like your current lifestyle, your long-term fitness plans and whether you have any other aesthetic goals beyond your abdomen. Dr. Clayman will show you before and after photos of other tummy tuck clients so you can better understand what your final, healed results may look like and be realistic about what your anatomy will allow. Your consultation is also the time during which you can discuss your general recovery timeline and go through our aftercare suggestions with you.
Your consultation is also an opportunity for Dr. Clayman to perform an evaluation of your skin laxity, muscle tone and fat content. This will provide him with the necessary information to design your tummy tuck to meet your needs and create optimal results. Through a thorough discussion of your goals and an in-person assessment of your concerns, Dr. Clayman can ensure that your incisions and the resulting scars can be hidden with ease, that your final results give your body a balanced and more sculpted shape and that your surgery is performed safely and effectively. You can also take this opportunity to ask any questions that you have about your tummy tuck procedure, Dr. Clayman's expertise and techniques and about your recovery.
Dr. Clayman's goal is to improve your self-image with advanced surgical techniques and to create results that are naturally beautiful. For this reason, we assure you that your tummy tuck procedure will be tailored to your unique vision and body type so that you achieve your cosmetic goals. To enhance your patient care, convenience and safety even further, we perform our tummy tuck surgeries in our comfortable, state-of-the-art onsite surgical suites.
Procedural Steps for Receiving Your Tummy Tuck
Your tummy tuck may involve one of several incisions, which Dr. Clayman will explain during your consultation; however, the majority of tummy tucks begin with an incision along the pubic hairline and around the belly button. The incision that Dr. Clayman recommends will depend on the amount of skin being removed and whether reshaping is required in the upper abdominal region or toward your lower back. The addition of liposuction can improve the contour and Dr. Clayman will review options based on your anatomy and desired goals.
An incision gives Dr. Clayman access to the underlying muscles and excess fat needing repair and removal. Based on the design of your treatment plan, Dr. Clayman will restructure and tighten the muscles and remove fat to create a flatter stomach. Afterward, the skin is re-draped over the abdomen, trimmed and sutured together, giving you a smooth profile without unwanted lumps, bumps or sagging. Additionally, Dr. Clayman will create a new opening for your belly button and suture it into place for a fully natural result.
Uncovering the Results of Your Abdominoplasty
An abdominoplasty does require some downtime before anticipated results start to show. You will have limited mobility for the first few days, so you should plan on resting and having someone with you to help around the house. We encourage you to minimize your activity for one or two weeks after surgery, including taking time away from work or typical daily responsibilities. You should avoid strenuous activities like exercise or heavy lifting until Dr. Clayman has cleared you to resume them.
Dr. Clayman will make sure that you have a thorough understanding of your recovery instructions before your surgery, and will be available to address any concerns once the healing process begins. Directions may include specific care for surgical drains, dosages for oral medications and best practices for preventing infection. You will also come in for follow-up appointments where we can assess the progress of your recovery and make any suggestions for quicker healing.
Because every individual receives surgery based on specific need, the time it takes to recover fully varies from person to person. The typical tummy tuck client takes about six weeks to feel back to normal energy levels, and six months before all swelling and scarring has settled and your results are fully apparent. Over the course of this process, you will notice that your profile looks and feels progressively slimmer as your body adjusts to the surgery.
As long as you maintain a healthy lifestyle and stable weight, the results of your tummy tuck should be long-lasting. Overall, you will be pleased with your new, more appealing body contour and will be ready to show off your flatter, more toned tummy in flattering clothes and swimsuits. To learn more about tummy tuck or abdominoplasty surgery in Jacksonville, contact Dr. Clayman's Plastic Surgery Center and Miracle Spa at (904) 388-6110. Our friendly staff will help you schedule a consultation with Dr. Clayman so you can discuss your options for plastic surgery and determine whether a tummy tuck is right for you.