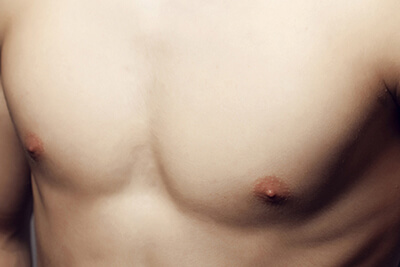 For men who experience gynecomastia, or enlarged male breasts, performing day-to-day tasks can be debilitating. Taking off your shirt in public, swimming, or exercising at the gym can prompt significant psychological discomfort if you have excess breast tissue.
Losing weight may reduce breast size, but it does not eliminate the skin that is keeping you from achieving a firm and toned chest. If you are unhappy with the size of your breasts, there are treatment options available that can significantly improve or reduce their enlarged appearance. To help you gain a more masculine body contour, male breast reduction at Dr. Clayman's Plastic Surgery Center and Miracle Spa may be the solution you need.
Why Treat Enlarged Male Breasts?
Gynecomastia affects over 50% of men in the United States, according to cosmetic surgeons and studies from New England Journal of Medicine, which means that many men are seeking treatment to improve their confidence in their appearance.
It's unclear what causes gynecomastia, although contributing factors have been linked to genetics, hormone imbalances, certain drug use (such as marijuana) and certain medications. Regardless of the cause, the condition weighs heavily on self-esteem, and can create physical discomfort as well. Breast reduction surgery can reduce the size of the breasts to restore a masculine-looking chest wall.
Are You a Candidate for Male Breast Reduction?
Most candidates indicate that their number one reason for considering surgery is their general unhappiness surrounding the appearance of their chest. When diet and exercise have failed to give you the results that you are looking for, surgery is often the next best option. If you have reached and maintained a healthy weight, but still experience excess tissue around your breasts, surgery may be right for you. However, it is important that you rule out any medical conditions that may be causing your breasts to increase in size. Although enlarged breasts are rarely a cause for medical concern, Dr. Clayman will ensure that no underlying health issues are present during a physical examination.
The best way to determine whether male breast reduction is right for you is to schedule a consultation with Dr. Clayman, where you can privately discuss your concerns and treatment options. Dr. Clayman understands that gynecomastia can be a difficult topic, so he is able to be sensitive to the cosmetic, emotional, and functional issues you are facing. Based on your personal aesthetic goals and your general health, he will then design a custom treatment plan that addresses your unique needs and areas of concern.
What You Can Expect from Male Breast Reduction
Depending on the areas of your breasts requiring treatment, Dr. Clayman can address your aesthetic concerns with a combination of procedures. If you experience puffiness around the nipples, for example, liposuction can reduce the excess fatty tissue in this region. When an overabundance of glandular tissue is creating sagging breasts, excision of skin may be necessary. It's common for Dr. Clayman to use both surgical tissue removal and liposuction to produce optimal results.
Dr. Clayman considers multiple factors when determining the best approach to your case. Restoring male breasts often depends on how he believes your body will respond to the removal of excess tissue and fat. The incision and surgical technique that Dr. Clayman uses will depend heavily on your anatomy, but rest assured that all incision sites are inconspicuous. Your treatment plan is designed specifically with your existing body contour and aesthetic goals in mind, so that you can receive naturally toned and attractive results.
After your breast reduction surgery, Dr. Clayman will provide you with post-operative care instructions that detail how to care for your surgical incisions, and avoid potential complications. He will also schedule follow-up appointments to check on the progress of your breasts as they continue to heal. You should expect to rest the first three days after surgery, keeping physical activity and movement of the shoulders or arms to a minimum.
Within one week to ten days, you should be able to return to your daily routine, but recovery times vary depending on the extent of your surgery. Most swelling will subside during this time, allowing you to see and feel significant changes to your chest contour. When you have recovered fully, your chest will appear firmer and more masculine. Typically, if you have sufficient skin elasticity, you will see the best results after breast reduction, as elastic skin has more opportunity to contract and form around the re-shaped breast.
For more information about male breast reduction, contact Dr. Clayman's Plastic Surgery Center and Miracle Spa at (904) 388-6110 to schedule a consultation .