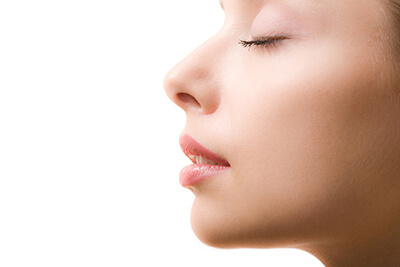 Your nose is one of the most prominent features on the face, you may have cosmetic issues with your nose. When the nose looks symmetrical, it hardly stands out, but when it exhibits asymmetries or cosmetic imperfections, its appearance can draw unwanted attention.
Rhinoplasty is often sought after if your nose is causing you to feel self-conscious about the way you look. Dr. Clayman performs nose surgery using a variety of techniques to address specific functional and aesthetic concerns.
When is Nose Surgery Necessary?
Rhinoplasty is performed when either the appearance of the nose is compromised or if the patient is suffering from a deformity that causes breathing problems. Both techniques are capable of creating aesthetic benefits that also improve the internal structures of the nasal cavity.
You may consider rhinoplasty for cosmetic purposes if you wish to change the size of your nose, remove a hump, improve its alignment with your facial structure, or reduce a bulbous tip. Functional techniques include correcting a deviated septum, restoring the nose after injury, improving breathing or eliminating congenital disabilities.
At Dr. Clayman's Plastic Surgery Center and Miracle Spa in Jacksonville, Florida, we believe that when an area of your body is preventing you from carrying out normal, everyday activities and feeling content, you should receive treatment that will help enhance your quality of life. Although every rhinoplasty patient differs, you may undergo nose surgery to restore balance and harmony to the face and correct structural abnormalities, which works to improve your overall well-being.
Determining the Best Surgical Technique
During your Rhinoplasty consultation, Dr. Clayman assesses your expectations for rhinoplasty. He will also determine your candidacy with a medical evaluation that concludes whether you are healthy enough to receive surgery and have realistic expectations with your specific anatomy and areas of concern.
During your consultation, Dr. Clayman will examine the structure of your nose and present you with options that can effectively add symmetry and balance to your face. To design the most comprehensive treatment plan, he may take pictures of your nose and measure your face so that he can choose the best technique to produce optimal results.
Dr. Clayman performs rhinoplasty in several ways, depending on what he outlines in your treatment plan. Incisions are made either on the inside of the nose or along the tissue separating the nostrils. Both incisions give Dr. Clayman access to the underlying tissues and cartilage, and from there, he can make necessary adjustments.
Your rhinoplasty consultation is a great time to ask any questions or express your concerns about rhinoplasty. We want you to thoroughly comprehend your procedure so that you feel confident making a decision about whether nose surgery is right for you.
Every procedure performed at Dr. Clayman's Plastic Surgery Center and Miracle Spa is constructed with your individuality in mind. Our patients each display various facial contours and aesthetic goals that we honor by creating comprehensive treatment plans and addressing the specific concerns you are facing.
Correcting a Deviated Septum
Although you may receive some cosmetic benefit from nose surgery, correcting a deviated septum is not considered an aesthetic procedure. If you choose what is known as a septoplasty, you likely experience chronic breathing trouble, which can infringe upon your health.
Restoring function to the nose so that you can breathe easily is the goal of septoplasty, but Dr. Clayman also performs septorhinoplasty, which combines the structural corrections of septoplasty with the aesthetic benefits of rhinoplasty.
Nose surgery is not a one-size-fits-all operation, which is why Dr. Clayman takes the time to learn about the individual problems you are facing. While some patients benefit from cosmetic adjustments, others require structural corrections; it's our job to consider your unique needs and perform procedures that enhance your lifestyle.
Recovering from Nose Surgery
Typically, after your nose surgery is complete, a splint or packing will be placed inside the nose to support the newly-positioned structures. You will experience some swelling that may appear throughout your face; this is normal and will subside within a few weeks.
Dr. Clayman will schedule follow-up appointments during your recovery so that he can make sure your nose is healing properly. He will also give you very specific instructions on how to care for your incisions as you heal.
Your new nose will continue to progress until it recovers fully. Although the recovery process is gradual, the newly-refined nasal contour you receive as a result will be worth the time, patience and effort. For more information about rhinoplasty or to find out whether nose surgery is right for you, contact Dr. Clayman's Plastic Surgery Center and Miracle Spa at (904) 388-6110 and schedule a consultation in Jacksonville.