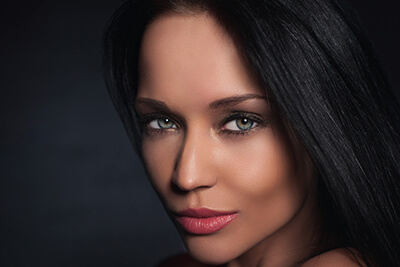 Some of the first signs of aging appear on the face and neck, which may cause you to feel self-conscious about the way you look. Although aging is an inevitable process, it's not impossible to slow down its effects on your skin. Wrinkles and volume loss can both become a problem, resulting in skin laxity and sunken features, but you have several options to consider when it comes to facial rejuvenation.
When you visit Dr. Clayman's Plastic Surgery Center and Miracle Spa, we can discuss whether facelift surgery is right for you. Drs. Loren and Mark Clayman have extensive experience using the most advanced techniques to provide enhancements that look completely natural to your facial aesthetic and take years off of your appearance as a result. Not only should your facelift be technically precise, but also it should incorporate the artistic contouring that both Drs. Loren and Mark Clayman can provide, which makes all the difference when choosing the most skilled plastic surgeon.
What Does a Facelift Correct?
Your facelift will focus on the areas that have become prone to aging. This may include volume loss in the cheeks, creases around the eyelids, nose and mouth, skin laxity around the lower portions of the face and neck, fat loss and more. Additionally, several surgical procedures can be performed in conjunction with your facelift, depending on the cosmetic concerns you are experiencing. A brow lift, for example, can reduce sagging skin while eyelid surgery can recreate youthful qualities around the eyes. Fat grafting is also used to restore a youthful shape to the face and as a more natural alternative to injectable fillers.
Through years of clinical practice, Dr. Clayman has come to understand the various ways an individual can age. Everyone succumbs to aging differently, which means that no two facelift procedures can be performed using the same technique. Dr. Clayman takes pride in his ability to recognize how particular features in your face change over time and designs comprehensive treatment plans that address your concerns.
To determine whether a facelift is right for you, you will come in for a consultation where Dr. Clayman can evaluate the tone and texture of your skin. Individualized consultations help Dr. Clayman determine the best way to rejuvenate the face while ensuring the results look completely natural to your facial contour. The goal of any facelift procedure should be to produce an aesthetic effect that maintains your original beauty. While a facelift will create a more dramatic effect than what you would receive with injectable fillers, for instance, surgical results that look overworked are not considered proper enhancements.
Several techniques can be employed to ensure the best outcome for your facelift, and the methods chosen will depend on the unique qualities you present during your consultation.
The Right Incision for You
During surgery, one of several incisions may be used based on the aesthetic results you would like to achieve. Traditionally, procedures start with an incision along the hairline and around the ear, but limited incisions are also useful when a lesser degree of rejuvenation is required. Many patients also experience sagging skin around the neck, which is easily corrected in combination with facelift surgery. An incision for a neck lift will usually begin in front of the ear and end behind the ear. Dr. Clayman makes each incision with care and precision so as to limit the visibility of any scarring during the healing process.
The results of your facelift may not seem apparent right away. Swelling and some bruising will mask any enhancement for several days, which is to be expected. Dr. Clayman will provide you with specific recovery instructions detailing how to take care of your face and skin while you heal. Strictly following these instructions is essential so that you eliminate any potential for infection.
As you recover, you will also come in for follow-up appointments to check on the progress of your facelift. Dr. Clayman will provide you with information that may expedite the healing process. A facelift may take several weeks to heal fully, but your patience is worth the beautiful results you will receive in return. Not only will your skin appear fresh and more youthful, but also your self-confidence will be restored.
If you would like more facelift-specific information, contact Dr. Clayman's Plastic Surgery Center and Miracle Spa at (904) 388-6110 and schedule a consultation. You don't have to tolerate visible signs of aging; instead, you can rejuvenate your appearance with a comprehensive cosmetic enhancement. Call today to learn more!